Welcome to the Australian Spirulina web site

The only Spirulina Farm in Australasia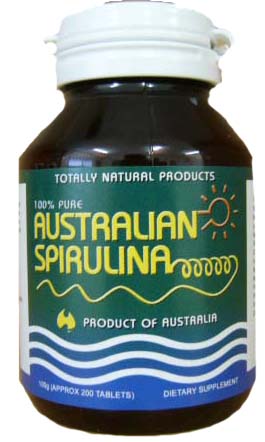 Grown in the pollution free environment and crystal clear mineral water of the Northern Territory, Australian Spirulina is the only Spirulina grown in Australasia .
( Australia & New Zealand)
Australian Spirulina has the lowest bacteria and heavy metal content compared to US standards (pdf 70K).
Using leading technology with our own unique & special spray drying method (Protected by a 20 years Australian patent), we dry Spirulina in less than 10 seconds.
Also unique to our processing system , Australian Spirulina is 100% pure without any binder or artificial additives.( all other brands are binder or filler added)
News:
Yes! Australian Spirulina
"the most pure Spirulina"
Australian spirulina, The world the most pure Spirulina compared other 24 products around the world. (inclusive
USA, UK, Canada, Japan, New Zealand, India)
King Saud University carried out a research
"Heavy metal analysis in commercial Spirulina
products for human consumption"
on 2013.
This study reveals the concentrations of six typical heavy metals/minerals ( Nickel , Zinc , Mercury , Platinum , Magnesium , and Manganese ) in 25 Spirulina products commercialized worldwide.
The result shows that Australian Spirulina (TAAU Australia) beats the rest in terms of purity.
The Repoprt was published on
Saudi Journal of Biological Sciences Volume 20, Issue 4 October 2013, Pages 383–388 ( click for link)
click link above for origin article.
PDF downlaod (click for down load)
Australian Spirulina always proud on our quality, and this is another solid evidence showing our quality has left others competitors far behind.
Thank you customer Mr. Teo from Singapore sharing this article .
Date : 26/09/2016
New Food labelling Law
Australian Government announce new labelling system for Australian food. ( 21 Jul 2015)
The proposed labelling will detail the percentage of ingredients grown in australia, and where the food is packed.
According new system, Australian Spirulina will be the only Spirulina product eligible to use both "made in Australia from 100% Australian ingredints" and "100% Grown in Australia "logos.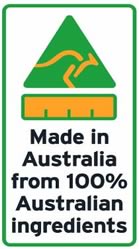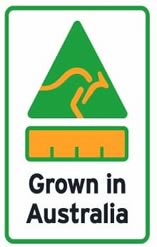 details for new labelling system: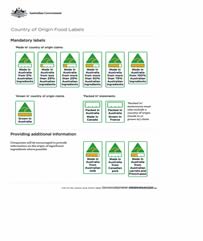 Source : ABC NEWS 2015 Jul 21. (click for details)
ABC origin link (click for ABC origin link)
Year 2003 Australian Export Award Winner (NT)
2003 Australian Export Award National final list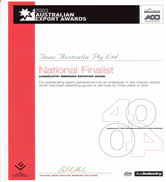 2004 Austrade article topic:
Taking Aussie health to the world
TAAU Australia's successful export story published on Austrade official website.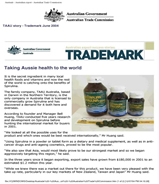 Link to Austrade original page

2006 Australian Government
Department of Immigration and Multicultural
and Indigenous Affairs
Company team leader Mr. Bell Huang and TAAU Australia's business success story published on the Australian Government printed "2006 Diary Of Australia – A Diary Of Multicultural Events".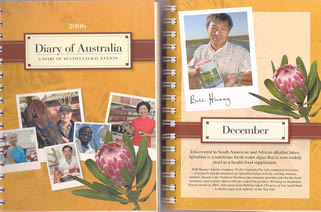 2006 Sep. Northern Territory Government
Territory Q magazine
TAAU Australia and company Team leader Bell Huang's Story been published on Northern Territory Government Quarterly publish magazine " Territory Q"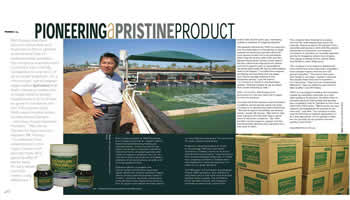 2006 Mutil Australian Export Awards Winner(NT)
1. 2006 Agribusiness Award
2.2006 Manufacturers Industry Award
2006 Australian Export Award National Final list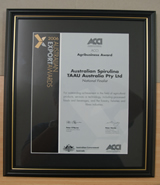 Taking Spirulina of poor quality or from an unknown source is an important health risk!
Are you taking Spirulina now? Are you aware of where your Spirulina comes from? China ? India ? Thailand ?
Are you aware that taking low quality Spirulina may result in heavy metal deposits in your system? High volumes of heavy metals may cause serious health problems!
Most brands of Spirulina do not mention their source of Spirulina, but just simply label their product Made in Australia or New Zealand even if their product used 100% imported ingredients. For peace of mind, ask your current Spirulina vendor to provide an official certificate of origin (for imported products). If they claim Australian or New Zealand grown Spirulina, then they should have a growing License.
Only Australian Spirulina or a company that sources their Spirulina from Australia can claim they sell real Australian grown Spirulina.
Australian Spirulina has been fighting fake "Australian Made Spirulina products" for more than 5 years. Unfortunately we still cannot change the way fake products are passed off as the real thing and without your support what we can do is limited.
Please support real Aussie Made products, (not 100% imported but still claimed as Australian Made).
We Promote Product of Australia ( Grown & made entirely in Australia)

No More Organic Spirulina
Since October 2005, most of ' Organic Spirulina ' was from USA. Two major USA companies have both ceased production of ' Organic Spirulina ', due to the USA Department of Agriculture terminating the use of a fertiliser which was orginally permitted as an organic feed for the growth of Spirulina.
Both two companies have expressed that the new regulation is not safe for production of ' Organic Spirulina ' , which may have compromised the safety of their product.
Now only China and India are claiming their Spirulina is 'Certified Organic' Consumers can find these Spirulina products in the market place.
Our company Australian Spirulina has never claimed our Spirulina is 'organically grown' as we believe in being honest to all of our customers. Time has established what we insisted from day one, that none of the Spirulina companies can claim it's a fully organic product, as it is not possible to produce fully organic Spirulina to a high quality.
Why can China, Taiwan, India claim organic? Do these countries have a better technique than USA or Australia? The answer of course is NO!, the difference is the certifiying system. So, if a consumer is still purchasing ' Certified Organic Spirulina ' , then you are most likely choosing an inorganic source grown from China or India.
Since October 2005 the USA have ceased production of 'Organic Spirulina ', more than 3 years have passed and the shelf life of 'Organic Grown Spirulina' should have lapsed by now.
If you, the consumer wish to know where your Spirulina source is coming from, please contact your current supplier to find out more.
Spirulina products which claim they are 'Made in Australia' or 'Made in New Zealand' doesn't mean they are grown in Australia or New zealand. It only indicates the product has been packaged in Australia or New Zealand only.